Spice Things Up at These Valentine's Day Haunts Right Here in Illinois!
Home » Blog » Illinois's Best Weekend Events, IllinoisHauntedHouses.com News and Updates, Illinois Haunt News
January 26, 2016 By Chelsea T.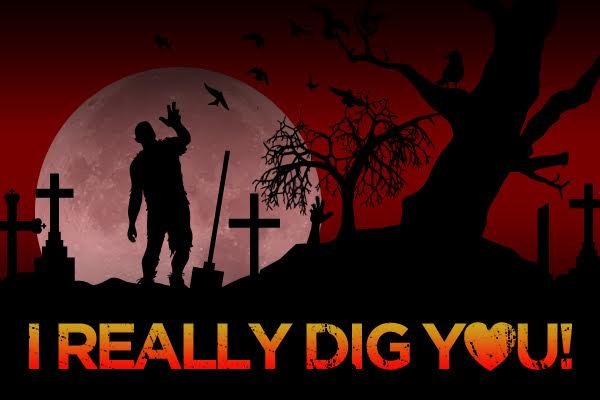 I Really Dig You!
Photo by:
ILoveHalloween.com
Valentine's Day is right around the corner and couples everywhere have already started planning the perfect evening to celebrate their love for one another. Most will be breaking out the flowers and chocolates, complete with a nice evening out on the town. Surprise your date this year by switching things up a bit... head to a Valentine's Day Haunt right here in Illinois!
It's a new and exciting way to celebrate the holiday and it will give you a chance to get quite close with that special someone as you're forced to cling to one another. We're sure whoever you're celebrating the holiday with won't be expecting a night out like this, and who doesn't love a nice surprise? Check out the events below and make plans to go with your loved one or make it a group date with some other friends and couples. The more people, the better chances you have to take on the creatures that await you!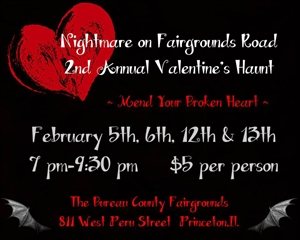 Nightmare on Fairgrounds Road Presents: Mend Your Broken Heart
811 West Peru Street, Princeton, IL 61356
815-875-2905
Fridays, February 5th & 12th & Saturdays, February 6th & 13th
Admission: $5
Head to Nightmare on Fairgrounds Road for their 2nd Annual Valentine's Haunt! Take that special someone for a night out in a heated barn with all new sets ups as you ride down the tunnel of fear while clinging to one another. The event will take place two weekends in a row from 7-9:30 PM. Click here to purchase your tickets ahead of time!

Massacre Haunted House Presents: Valentine's Massacre
299 Montgomery Road, Montgomery, IL 60538
708-320-FEAR
Saturday, February 13th
Admission to Massacre & Fear Factory: $25, Fast pass for both haunts: $35
Bring your date to a Valentine's Day event they'll never forget, even if they try! Enjoy a night of terror filled with chocolates, roses and sentimental cards. You and your date will have to find your way through the Valentine Massacre using only a glow stick, and there is no set path to exit the darkness. Admission includes 3D glasses and fast pass will allow you to skip all the lines!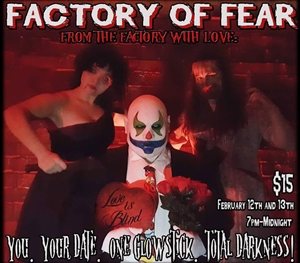 Factory of Fear Presents: From the Factory With Love: Love is Blind
5027 4th Ave. Moline, IL 61265
309-631-0558
Friday, February 12th & Saturday, February 13th
Admission: $15
Spend your Valentine's Day Weekend with your sweetheart and just one glow stick as you both take on an intimate experience filled with new rooms and new characters! The event will also feature a unique photo opportunity in a photo booth, and the keepsake is completely free! Admission is just $15 per victim and you can go anytime between 7 PM-Midnight on either night. For more info. on this Valentine's Day Haunt, click here.

13th Floor Haunted House Presents: Valentine X
1940 George Street, Melrose Park, IL 60160
708-571-3326
Friday, February 12th & Saturday, February 13th
Standard Admission: Starts at $24.99, Pre-Sale tickets sold out
Head to Chicago's 13th Floor Haunted House for a thrilling Valentine's Day themed celebration! The event will be infested with Valentine-related creatures and sets for you and your honey to enjoy while in a candle-lit night of horror! Valentine X will take place both nights from 7-10 PM. Fast pass reservations are available. Click here for more info.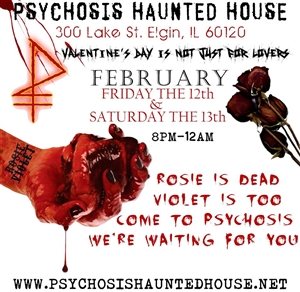 Psychosis Haunted House Presents: My Bloody Valentine
300 Lake Street, Elgin, IL 60120
Friday, February 12th & Saturday, February 13th
Pre-Sale Tickets: General: $15, VIP: $22 | At the door: $20, VIP $27
Head to this interactive Valentine's Day Haunt with your Valentine for a twisted experience that is sure to be different from your past celebrations! For $10 more, Psychosis will even "kidnap" someone in your group to take things to the next level. This event is appropriate for ages 13 and older and is accepting canned and bagged pet food to donate to the animals at The Buddy Foundation! Click here to purchase tickets and for further details.





Basement of the Dead Presents: Valentine's Day in Wonderland
48 West New York Street, Aurora, IL 60506
630-896-2466
Friday, February 12th & Saturday, February 13th
Admission: $24.99
Show your sweetheart some love in a unique way this year by taking on a Valentine's Day in Wonderland! Basement of the Dead operates all year long and have been preparing to terrify couples at this special holiday event. Click here to purchase your tickets in advance before they sell out!