13th Floor Haunted House Chicago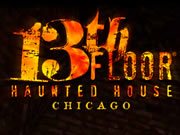 1940 George St.
Melrose Park, IL
Details
Average Review

Scare Factor

Very Scary

Appropriate For

12+

Organization Type

Commercial / For Profit

Listing Categories

More Info

Wheelchair Accessible, Outdoor Event(s), Touching Not Allowed, Free Parking
CHICAGO'S LARGEST HAUNTED HOUSE, THE 13TH FLOOR!
Horror in the Heart of Chicago! This Halloween Season, explore the legend of the 13th floor at one of the most horrifying haunted house experiences in Chicago, the 13th Floor Haunted House! In most buildings, the 13th Floor does not exist. But, hidden in this building, it's very real.
Experience the truth about the legend of the 13th Floor at a haunted house created from your darkest fears. Legends and nightmares alike will come to life at the 13th Floor, Chicago's legendary haunted house, a gut-wrenching ride to untold nightmares 13 floors straight down!
NEW THEMES
Included in your ticket price is admission to both haunted houses at 13th Floor, "Bloodlines: Legacy of Darkness" and "Dead End District: Fallout." Two haunted houses at one location, one ticket, one price, ensuring you the best value in scary entertainment this year.
Bloodlines Legacy of Darkness: It's always cold this time of year in Chicago but lately in Melrose Park, on the edge of the Huppert Woods, there is a special chill in the night air. Something has disturbed the mausoleum hidden there aside the old Orfeo Estate and there's been ashen corpses showing up throughout the park and surrounding neighborhood. Local legend has it that Lord Orfeo who was a prominent member of Chicago society a century ago was actually a vampire who came on a boat from Moldova, intent on continuing his bloodline on the new continent. There is panic in the streets as people fear that he has awoken, renewed his quest, and now he has company…. The dark lord has called upon his army to rise from the Resurrection Cemetery in nearby town of Justice, IL. Will you escape from the caves and catacombs or will you become one of them?
Dead End District Fallout: Melrose Park may seem like a sleepy suburb, but it is indeed about to be shocked awake. Within the walls of an old industrial building, a supernatural portal has opened to another place—and time. It is a window into a post-post-apocalyptic world where the trees, animals, and blue skies are no more and all that is left is desolated urban sprawl. Streets, shops, and even casinos, have become hunting grounds for the mutant criminals and tortured souls that come out at night in what has been dubbed the "Dead End District". The government, police force, and military are no more… leaving only "The Judge" to rule the land. You will be dragged before him and must submit your fate to his whim. Or will you break free and escape the hellish tribunal?
Email Haunt Owner
All photos and videos within this listing are the property of 13th Floor Haunted House Chicago
Located near Winston Plaza Shopping Center in Melrose Park.
Recent Reviews
Much Improved over last Year

13th Floor is a haunt that the Tourers definitely approached with some caution and skepticism based on our experiences from last year. While we liked the haunt last year, we felt that it had recycled too much from the 11th Hour (the haunt that previously occupied their space), had too few actors with too many similar performances, and was far too short (only 13 minutes) for the rather high prices being charged. Thus, we went into our 2015 visit with lowered expectations. Thankfully we were not disappointed this time! While 13th Floor is still expensive (with general admission prices on certain nights being about $33 per person and full VIP over $50 per person), we did find that it had greatly improved in all of the other areas that we found lacking last year. First, the set design was outstanding, perhaps the best we have seen in any haunt thus far. The best sets from last year (the crypt/church and abandoned house) were still there, but were enhanced even more, and the parts recycled from 11th Hour were transformed into brand new sets that were also very elaborate. Second, the actors were more plentiful and more varied in their presentations, with many managing to keep their performances creepy and amusing at the same time. Third, the haunt was a bit longer, clocking in at about 18 minutes this time, although that could simply have been due to our taking our time to admire the sets. Specifically, there is a little something for everyone at 13th Floor. For those who love set design (as we do), there are some simply stunning set pieces inside, including a crumbling church complete with bell tower and a bell that appears to have crashed down from the ceiling and embedded itself into a staircase, an old mansion with grand staircase and large chandelier hanging from a dilapidated ceiling, and an entire street scene that looks like something out of turn of the century Bavaria or Transylvania, with quaint storefronts and even a public fountain. Oh, and it's populated by werewolves! Added to these were scenes depicting an rickety shack in the woods, an auto repair shop, casino, bar, barber shop (something we've not seen before in a haunt), library, apothecary shop and many more locations, all of which were highly detailed, down to the types of medicine on the shelves, the detailing on the playing cards in the casino, and much more. There was simply too much to take in, and we found ourselves lingering in each room just to soak up the atmosphere. The sections outside of the rooms were highly detailed, too, with each one leading into the next and the inside features being continued on the outside. For example, when exiting the collapsed church, the outside scene showed a wall at an odd angle, partially falling down over visitors' heads, and when moving into the mansion, visitors first passed through an actual street scene with outside storefronts. Our favorite scenes included the crypt and church, which had giant tombstones, fog, candles, and all of the typical things one might find in such an area, as well as a main hall with collapsed ceiling, scattered pews and a demonic bishop character who stood in the corner and stared at us, only to follow us as the path made us walk right by him. He was a standout form last year and we're happy he made a return appearance this time around. We also loved the werewolf setting with its storefronts and old signage, the main hall of the abandoned mansion, the barber shop, casino, and the former redneck shack, now occupied by not only a laughing redneck but also a crazy clown who too great pleasure in taunting us. To give you an idea of the level of detail, in the clown's room there were numerous famous paintings on the wall, all of which had clown faces. It appeared as though the clown faces were actually painted on the real painting and not simply applied over the existing one. These were so subtle as to be easily missed, and would have worked just fine as ordinary paintings, so having them there shows just how detailed 13th Floor is. The acting, too, had improved from last year, with many actors varying their performances, from sluggish zombies, to slithering little creepy actors, to laughing maniacs, each one managed to be at least slightly different from the rest. Special mention must go again to the bishop, as well as the many werewolves, the creepy, crazy clown and the laughing redneck, as well as the twitchy nurse who moved from spot to spot and shook her curly hair at us, then stood very still until suddenly moving again. Also, 13th Floor managed to be very creative with the locations that the actors could pop out at visitors. Many scenes featured actors that popped out from far above or far below visitors' eyelines, or from between scenes and sets, keeping visitors on their toes. There were actors that laughed at us from rooftops, who grasped at us through open windows, and even one who popped out of a horizontal freezer bay in the morgue. All of this served to make each room very interesting. Overall, we're happy to say that 13th Floor was much better this year than last, and that it made a lot of progress towards living up to the marketing hype that surrounds it. While we still would say that the price is high (especially when it's even higher on certain dates during the season, which smacks a bit of price gouging), if you can find a deal on Groupon or Living Social, or if you can go on an off night and get general admission tickets and get there before they open to beat the line, 13th Floor does offer a very immersive experience. We'd love to see more detailed costuming on some of the inside actors (who mostly wore standard makeup) and perhaps more prosthetics (as the wait line actors wore) as well. However, we were pleasantly surprised this time around and we're happy to say that 13th Floor has moved from our "might visit" list to our "must visit" list for 2016!

Scare Factor:
Fun Factor:
Haunt Value:
Length of Event:
11-20 minutes
Time Visited:
After 9PM
Would Recommend:
Yes
Suitable For Kids:
Unsure

Posted 9/28/15

4 out of 5 found this review helpful
All information on this page was submitted to Illinois Haunted Houses and was believed to be accurate at the time it was posted. Please report any inaccuracies
here
.