Jimmy Kimmel Pranks His Own Daugher with "We Ate All of Your Halloween Candy" Prank This Halloween
Home » Blog » Halloween's Hottest Trends, Little Ghost & Ghouls Corner , Illinois Haunt News, Halloween Headlines
November 2, 2017 By Cait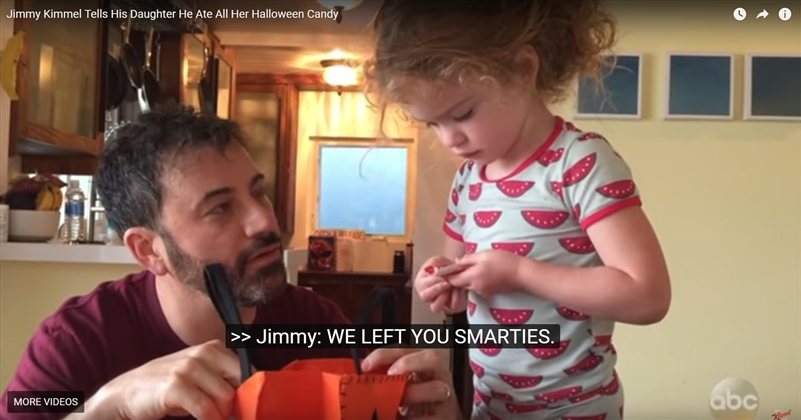 Jimmy Kimmel Pranked His Three Year Old, Jane, with His Now-Classic "We Ate All Your Halloween Candy" Prank.
Photo by:
The Jimmy Kimmel Show, via YouTube.
This year, in addition to egging on parents across America to tell their kids that they "accidentally" ate all of their Halloween candy while they were asleep, Jimmy Kimmel pranked his own three year old daughter, Jane, with the same ruse. At first, Jane doesn't seem too upset, noting that her parents did in fact leave her one piece of candy, and lighting up when she hears the waffle iron beep - she definitely seems more excited about waffles, then upset about the Halloween Candy, at least until the severity of the situation really has a chance to sink in.
After trying to nudge out of her if she's upset, Jimmy Kimmel quips "Jimmy Kimmel made me do it," while looking deadpan into the camera, something you may recognize from past-featured videos as a reason why parents have eaten candy/played such a trick on their children, once the kids tend to burst into tears over the loss of their Halloween haul.
Once she realizes that he ate the Skittles, Jane is NOT a happy camper, but when she finds out he "ate" the Halloween eyeball gumballs, she expresses concern, pressing the issue that gum is not meant to be eaten, but "blown into bubbles" - she seemed concerned that her dad might've accidentally swallowed gum on his late-night candy rampage.
The video is adorable, and if you love these "Sorry we ate your candy" videos, it's definitely worth a watch - it's hilarious to see that Jimmy Kimmel himself can barely get a rise out of his own daughter, who we think might be in for a world filled with silly pranks in the future.
Did You Watch Jimmy Kimmel Prank His Daughter This Halloween?
Share Your Thoughts in the Comments Below!