Five Lowkey Ways to Tie Halloween Into Your Christmas Decor on the DL
Home » Blog » Halloween's Hottest Trends, Halloween Headlines
December 1, 2017 By Cait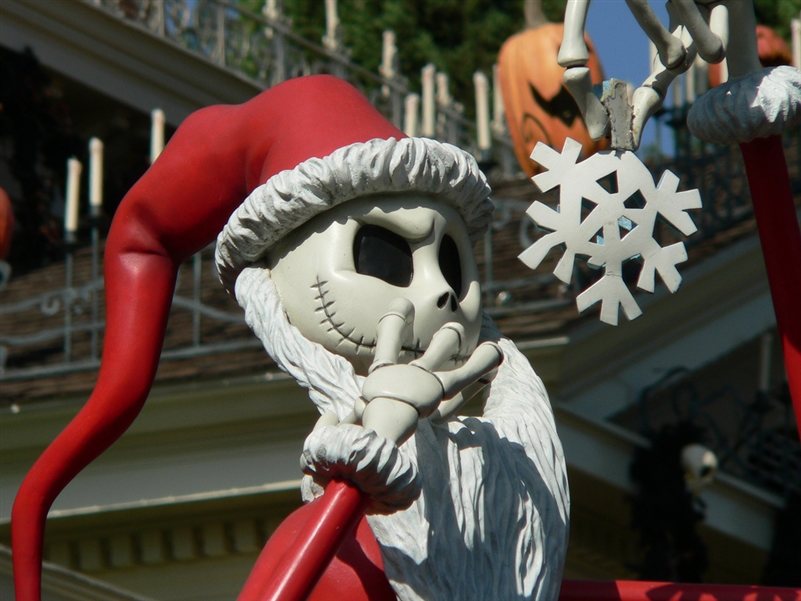 Thinking About How to Tie In Some Halloween Flair to Your Christmas Decor Without Overdoing It? We've Got You Covered!
Photo by:
Eric Smith, via Flickr. (CC BY-NC-ND 2.0)
Just because Halloween has come and gone doesn't mean you need to stop celebrating! If you're looking for ways to tie your love for Halloween into your Christmas decor without full on committing to an all out "Halloween on Christmas" theme, not to worry - there are plenty of little ways to pay tribute to your favorite holiday without letting it entirely overtake Christmas!
If you're looking to get your toes wet with mashing up your two favorite holidays, we've got some great ideas for adding a pinch of Halloween into your Christmas Cheer This Holiday:
Go Simple:

Nightmare Before Christmas

Works for Both Holidays, No Problem! - If your favorite holiday is Halloween, then you're probably already (rightfully) into

The Nightmare Before Christmas

- a holiday classic that's the perfect mashup of Halloween and Christmas. Incorporating some of the more festive

Nightmare Before Christmas

ornaments, baubles, and home decor into your Christmas Collection is the perfect way to begin bridging the gap between your too favorite holidays!



Don't Forget About The Krampus

- Are you familiar with The Krampus? He's the cloven-hooved demon that accompanies Santa on his annual sleigh ride, but while Santa hands out toys to the good girls and boys, The Krampus...well, let's just say he punishes those on the naughty list. Although Krampus hasn't been as popular of a Christmastime figure over the last few decades (what with terrifying the children, and all), he's been making a serious comeback over the past few years.

You can now buy Krampus ornaments, sweaters, and decor, and in 2015, he even got his own movie, titled

Krampus

! Lots of haunts across the country also welcome Krampus for their holiday festivities, so you can meet Santa's Scarier Counterpart in person if you're lucky!



Add a Few Halloween Ornaments To Your Christmas Tree

- If you're not ready to go "all in" on a Halloween tree quite yet, one fun way to tie the two holidays together is to add some Halloween ornaments to your Christmas Tree. You've got a few options here - as mentioned above, you can of course go the

Nightmare Before Christmas

or Krampus route, or you could buy some Halloween-themed ornaments (they're probably on clearance right now!) - pumpkins, bats, witches hats - and mix 'em in with your more traditional Christmas ornaments.



Indulge in Some Christmas Horror Flicks

- Over the past few decades, Christmas Horror Flicks have gone from an obscure sub-genre to "its own thing", with new holiday horror movies being released on a seemingly annual basis. Whether you're looking for something a bit more family-friendly, a la

Gremlins

, or you're looking to go full on gore galore with something like

Silent Night, Deadly Night

, there are literally tons of Christmas Horror Flicks to pick from - Santa Slashers, Murderous Snowmen, Exploding Christmas Gifts, Bad Little Kids Getting Their Due (thanks, Mr. Krampus!) and so much more.



Remember to Have Fun With It

- We could list off a million ways to add some Halloween Fun into your Christmas Cheer, but the most important thing is that you have fun with it! Wither you add some zombies into your Christmas Village, you add coal to your kids stocking "from Krampus", or you decide "you know what, this skeleton would look great with a Santa Hat" - there's no wrong way to intertwine your favorite two holidays, as long as you're having fun!
How Do You Like to Bring Together Halloween & Christmas?
Share Your Ideas (& Photos!) in the Comments Below!