Anthony Alfano, Illinois Boy with Cerebral Palsy Has Another Elaborate Costume for Halloween
Home » Blog » IllinoisHauntedHouses.com News and Updates, Halloween Headlines
October 10, 2019 By Wendy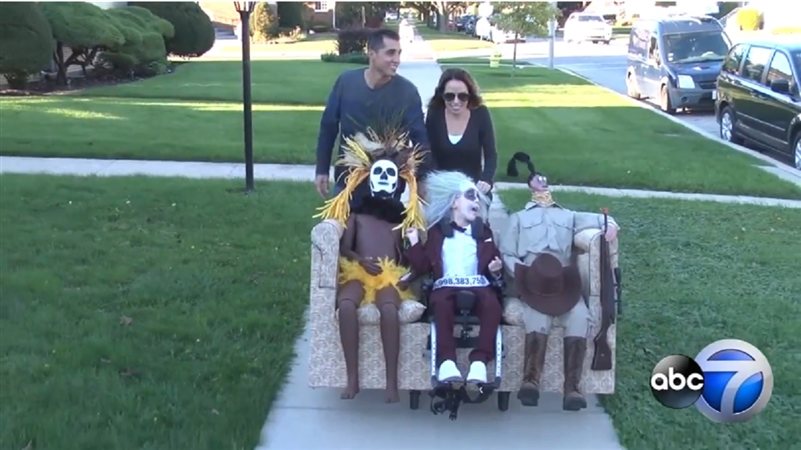 Photo by:
ABC 7
You may remember the name Anthony Alfano from last Halloween and the years prior. The Illinois boy from Melrose Park and his family celebrates Halloween each year with an elaborate costume design.
Anthony suffers from cerebral palsy, which has left him bound to a wheelchair. The condition has robbed him of his ability to talk and walk. But even so, Anthony carries a precious smile on his face each Halloween because he's excited to celebrate and to feel included wearing his very own Halloween costume.
Mom and dad, Deanna and Tony Alfano, work their magic to design and build a Halloween costume for Anthony each year. Last year, Anthony was dressed up as Beetlejuice and became a viral sensation.
This year's creation is just as amazing. Anthony will be the Blue Man Group! The local news station ABC 7 interviewed the family and was shown the mannequin-clad outfit with a leaf-blower-turned-toilet-paper-fan and marshmallow cannon.
Halloween has been a time that has helped Anthony and his family escape from the condition of cerebral palsy. During the interview with the local news station, Deanna Alfano said: "It's amazing how compassionate and supportive even strangers are to our situation."
Watch the full interview and see Anthony's Halloween costume for 2019 below!
What will you be dressed up as for Halloween?