Stories From the Grave: The Hauntings of Bachelor's Grove Cemetery
Home » Blog » Illinois's Local Halloween Fun Guide, Illinois Haunts: An In Depth Look, Illinois Haunt News
August 24, 2015 By Kelly T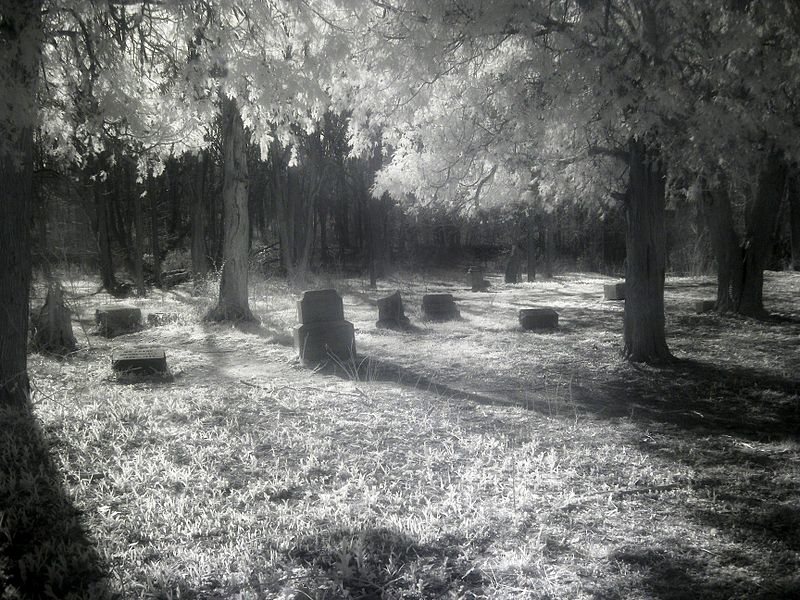 Photo by:
Cobra97 via Wikimedia Commons
Of all the haunted tales that have arisen from Illinois territories, one of the most well known is that of Bachelor's Grove Cemetery. Located just northwest of Midlothian and Oak Forest, lies Bachelor's Grove Cemetery, a wealth of spooky stories and paranormal activity to the area for over fifty years. From tales of sightings of a lady in white walking the grounds, to a phantom farmhouse that vanishes as visitors proceed to venture closer, Bachelor's Grove Cemetery has been home to a true variety of strange phenomena.
Here's a sample of just some of the haunted happenings reportedly experienced over the years at this abandoned Illinois burial ground.
Visions of a phantom farmhouse in the distance have been some of the earliest paranormal reports associated with Bachelor's Grove Cemetery. Accounts recollect seeing a farmhouse floating and shimmering and then ultimately disappearing before they were ever able to get nearer to the structure. At the entrance to the cemetery visitors have also claimed to see a black dog who would disappear as they approached it.
Eerie lights and orbs too have been spotted in and around the cemetery. Some visitors have claimed to see red lights flying quickly around the trail leading to the cemetery, leaving ghost light trails in its wake.
As late as 1984, strange sightings of numerous figures dressed in monk's robes walking the cemetery have also been witnessed.
Last but certainly not least, another prominent experience reported at Bachelor's Grove Cemetery involves that of a female ghost referred to as The White Lady or The Madonna. Spectators say that the apparition walks the grounds of the cemetery during the full moon with an infant tucked securely in the crook of her arms.